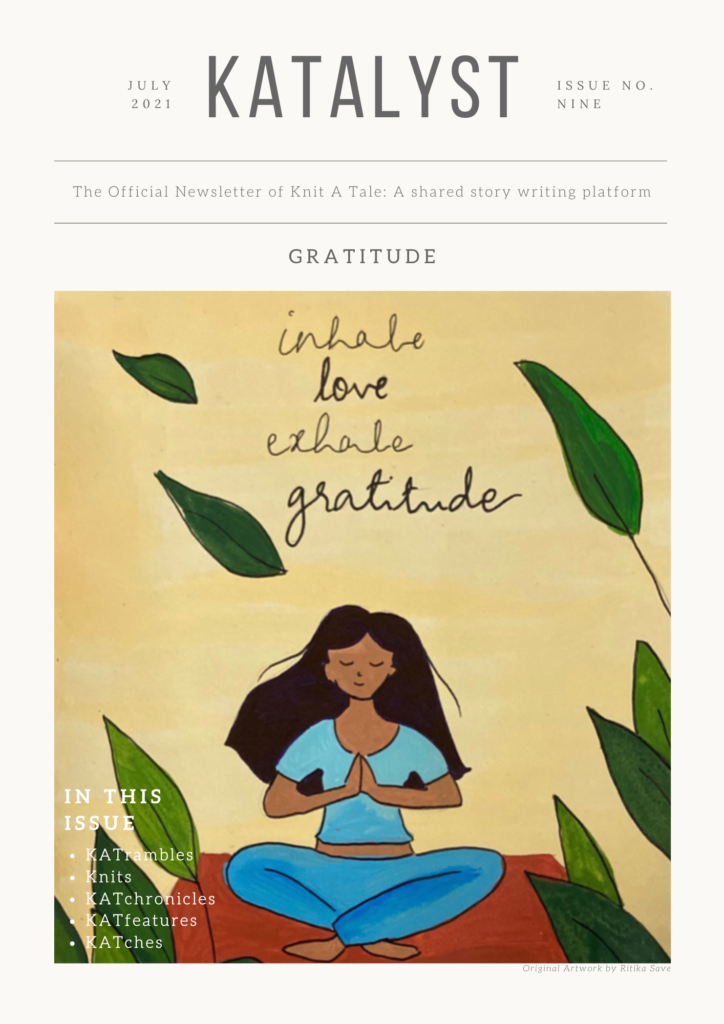 The latest issue is on 'Gratitude'
KATalyst is the official newsletter of Knit A Tale.
We at Team KAT love wordplay, as you have probably noticed by now. Katalyst is a combination of KAT which stands for Knit a Tale and Catalyst which scientifically is a substance that causes or accelerates a chemical reaction. It can help speed up a reaction that would take place anyway, with the catalyst being activating/initiating agent.
Have you thought about reading, creating or looking for a fun way to spend time with a loved one but a million other commitments seem to get in the way? Then you've reached the right place. By way of Katalyst we hope to bridge that gap and pilot the much needed change in your life.
Katalyst will give you the opportunity to read about different topics, an opportunity to learn new things, to create new things, to broaden your horizons, spend some quality time with your loved ones and so much more. With all its sections it has a little something for everyone.
Each issue of the newsletter will focus on a particular topic and look at it in depth. The idea is to have multiple people contributing to it, so we get a holistic picture of a particular topic. There will be stories, recipes, recommendations for movies and songs, pieces written by us (Team KAT), games, riddles and so many other fun and interesting things. The things that you know and love about Knit A Tale will be there, with some more interesting stuff too!
Knit A Tale was a way for us as Team KAT to get creative, go out of our comfort zones, read new things, learn about our community and grow as people. It has taught us a lot about what it means to learn from others and have new experiences. Knit A Tale changed our lives, it has transformed us, it has helped us grow as people.
Knit A Tale may have been the starting point for us, but Katalyst is going to take it to the next level.
Maybe Katalyst can be the catalyst we need! We hope Katalyst can help all of us and take us ahead as a community.
We hope that we are able to reach many people, and by subscribing, you would help us do that.
For those of you who would like to contribute and be a part of our newsletter, there are many ways you can do so. Based on the theme for a particular issue, whether you would like to knit a tale and send it across or just share a quote or an image, any and all contributions are welcome. The idea is to create something beautiful together that can amplify voices, inspire or at least bring a smile to someone out there. If you believe in this like we do, have a look at our submission guidelines and see what you would like to send to us. All are welcome.